Facilities (design, furniture, accessories)
We wanted to welcome people with disabilities. For this, we obtained the "Tourisme et Handicap" accreditation in May 2009. This was renewed in June 2015, then in March 2019, again for the four impairments: motor, visual, auditory and mental.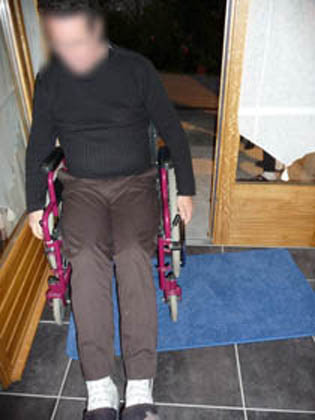 This article summarizes the improvements that have been made to improve their comfort. With each visit of the regional services, we got new suggestions to improve signage or accessories. And our customers with disabilities are also bound to make comments that we try to take into account.
The entrance WINDOW DOORS, like all the doors of the cottage, have the sufficient width for the passage of a wheelchair (0.90m). They are at the level of the tarred yard, with an aluminum threshold which means no step.
Some markers have been placed for visually impaired persons,on the patio doors, the shower window, the baking sheet.
Kitchen
The kitchen has also been specially designed to make easier to approach the wheelchairs. In the dining room the table was built with the same intention. Custom-made with its legth-cut ties, it allows people in wheelchairs to sit comfortably.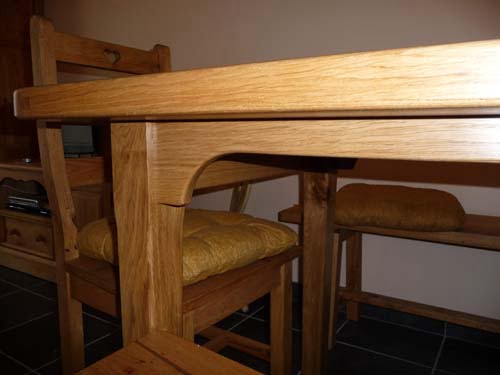 The rooms are large enough to install medical beds that can be rented in advance at Matériel Médical de Savoie: (+33)9 67 19 40 35.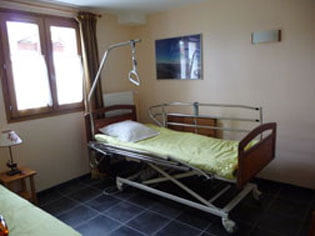 Installation according to your needs: it is possible, in each room, to leave a single bed for the accompanying person and to install a medical bed, or only a medical bed, with eventually a sick lift if necessary.
Sanitaries facilities
In the bathroom, the sink, with its ergonomic shape and staggered evacuation allows people with reduced mobility to lean on the edge and access the taps very easily.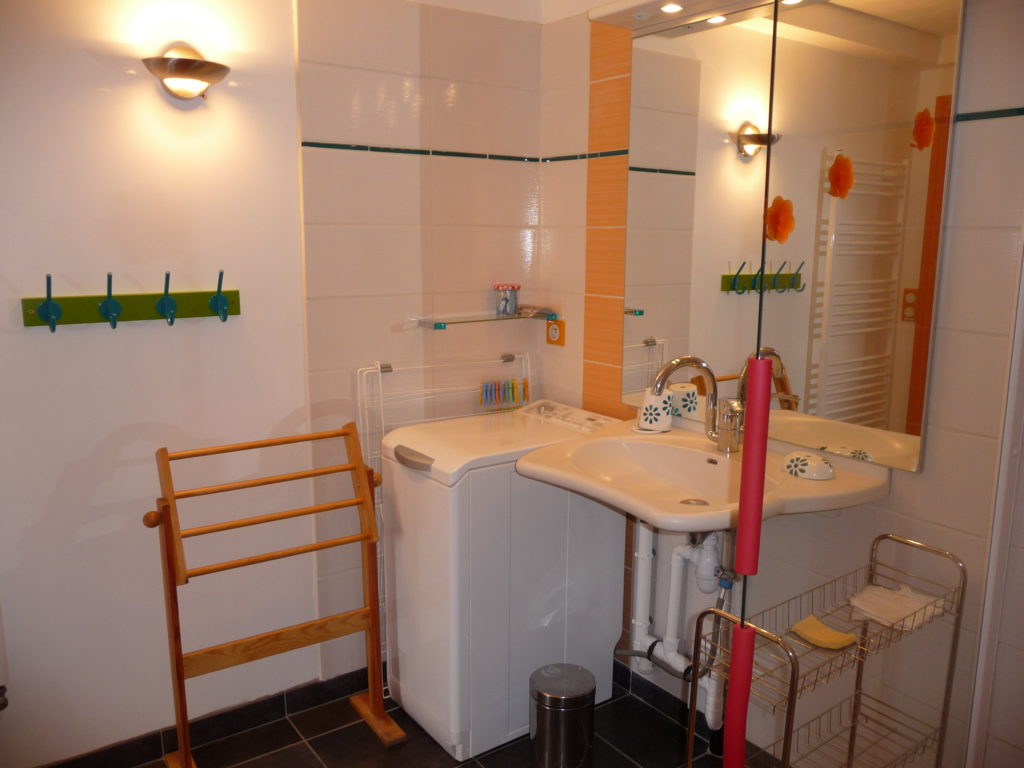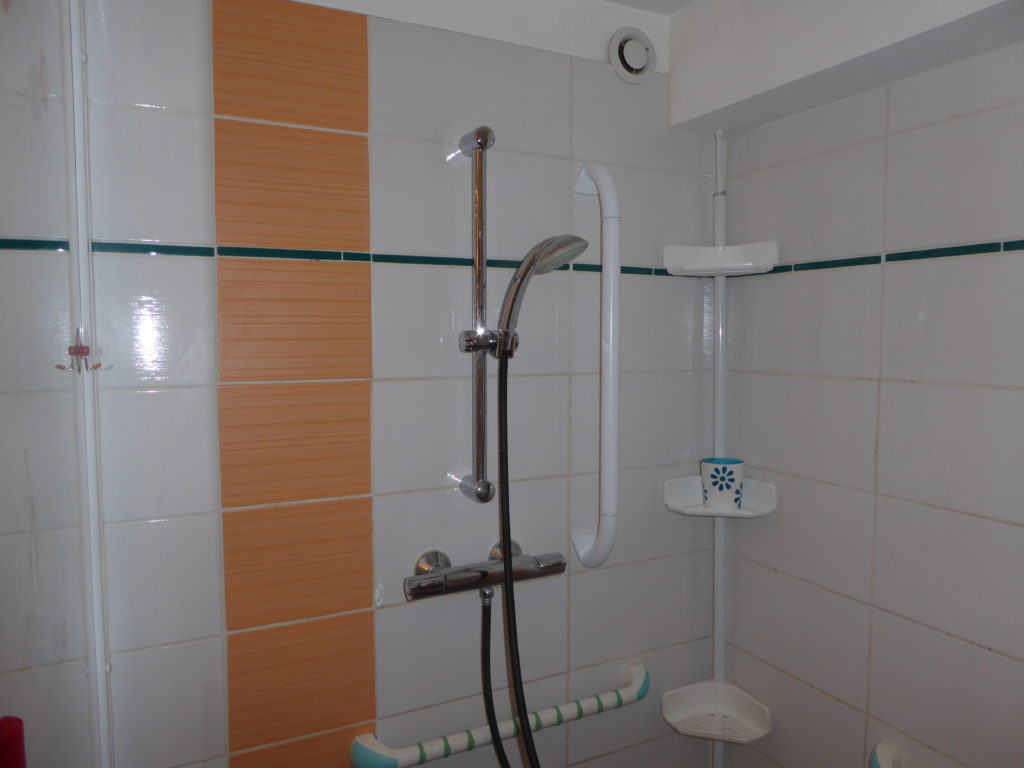 The Italian shower contains a seat and the coat racks are set at 1.30m high.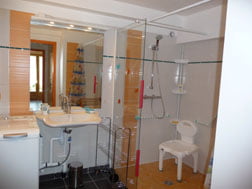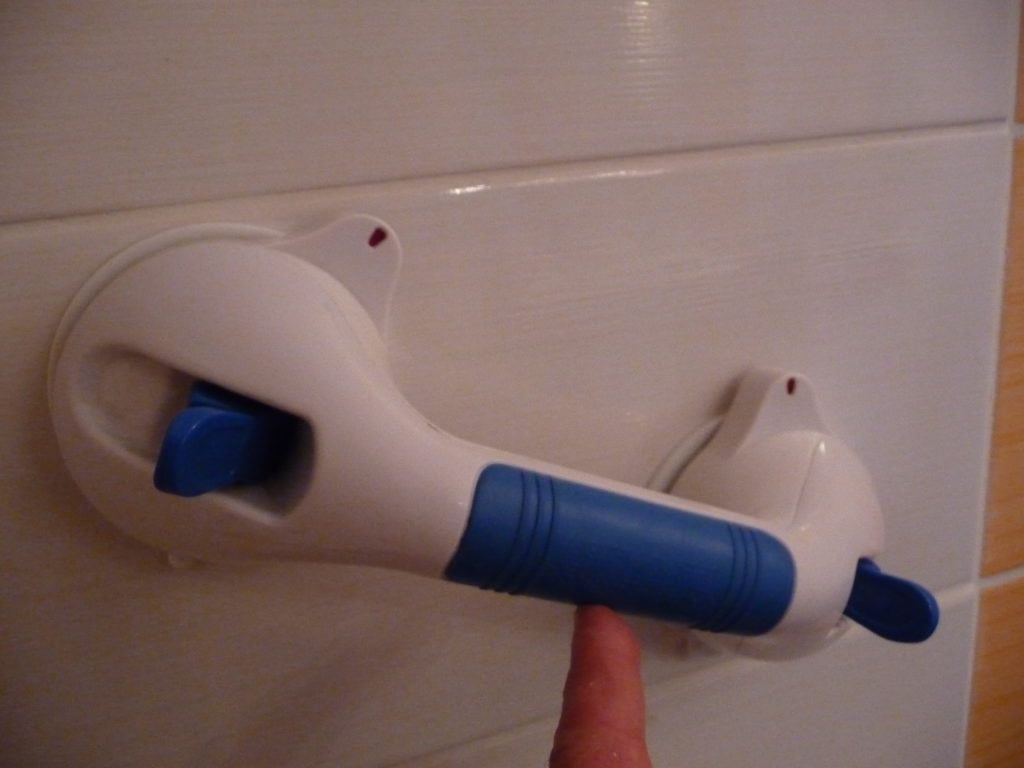 The toilet is wide enough to pass an electric chair and carry out the transfer from the right. A cord allows the door to be closed once seated.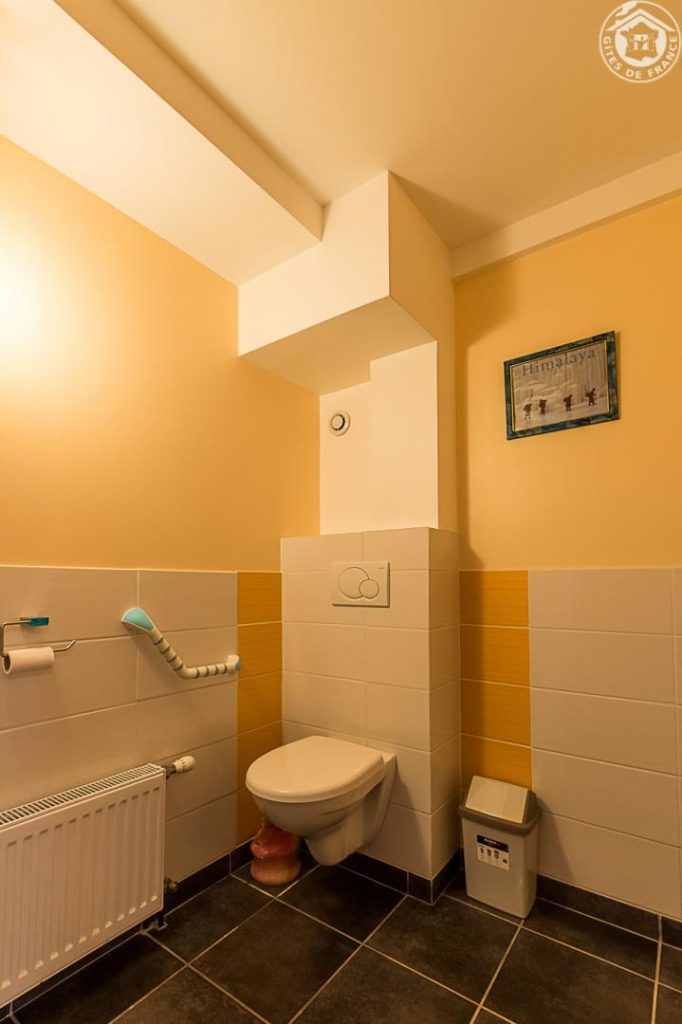 Preparing for your stay
To organize your adapted stay in Savoy, you will find very good ideas here. For more information, do not hesitate to visi the Chambéry Montagnes disabled tourism page. Unfortunatly only in french !
Opinion of affected users
Many people with disabilities came alone or accompanied to enjoy our beautiful region; some do not want to talk about it, others are more loquacious. You will find below their testimonials filed on our guestbook.
All these people and many others have helped us to complete and adapt our offer. We thank them very much.
Quiet, relaxing
Very good welcome in this very clean cottage, well equipped in all respects (also for disabled person). Beautiful landscape, quiet, relaxing. A big thank you to our hosts for their kindness, their benevolence, their welcome and for all the information about the surroundings
famille DURAND
Paradisiacal…
Sixth stay at the Soldanelles. We spent 2 weeks of extraordinary holidays in a heavenly, quiet and PRM-friendly place. As usual, we were welcomed by Elisabeth and Marcel, great people and caring for their tenants. Sep 2021,
PS: thank you to the Auberge du Mont St Michel for their welcome
Marie-Renée and Léon
Relaxing stay
A very pleasant stay, a superb cottage, comfortable in PRM. It deserves 5 stars with very nice owners. We had a relaxing stay; we visited the passes and vineyards as well as the cellars, the small villages and Aix les Bains: very beautiful. A very good hostel and the hostel owners nice. We will surely come back to this gite.
Thanks to the owners.
June 2021
Agnès and André
Change of scenery guaranteed
We will come back for all these reasons:
– warm welcome
– very comfortable cottage and well adapted to wheelchairs (large bathroom, large corridor, transfer on the right to the toilet, practical room, very well equipped kitchen)
– fantastic panorama
– Good sleep extra
Thank you to our guests for all these intentions that bring us comfort. May 2021
Véronique and Pascale
Benevolent soul
My thanks to Elisabeth and Marcel for this wonderful stay in their cottage to whom they have transmitted their kind, welcoming and warm soul. In addition, the accommodation is very functional and we spend beautiful days in a wheelchair. Once more, thank you for paying attention.
We hope to relive the joy of being in nature, in Savoy, the land of my ancestors, and see you again.
Gabrielle from Montpellier
Very functional
Pleasant stay, very functional cottage, shower well suited for a person in a wheelchair. Very warm welcome. We enjoyed the area especially Mandrin's lair and its treasure hunt which made us discover beautiful landscapes. We also went to hook-hook in Talloires where there is a 5 senses tour for people in wheelchairs (Accro adventures).
We also had lunch at the Ailloud country inn
M. and Mme D. et V.
ASSOCIATION STARÉ
Thank you for the warm welcome. We were happy with our wheelchair and our dog. The weather has not been good for us, but we have had a good change of scenery.
Margaret, Rose-Marie, Daniel and the Dog: Evora
The banana
First the cottage. 65m2 bigger than my 80 sqm apartment. What for? Super well laid out. On the decorative side, small touches here and there (small tiles of earthenware, color switches, touches of life everywhere). One downside : "sick ringtone" written below the call button. Fortunately, I didn't see any white blouses!
The terrace, the barbecue, the flower hedges, the little pony and further away from the greasy green meadows crowned by a mountain with subtle curves. The whole thing is in the image of our guests, always ready to help. Friendly discussions that will end with a memorable flight.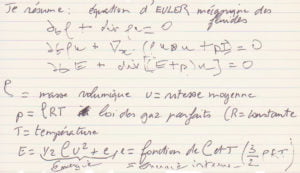 Bottom line: the glider flies! All that remains is to talk about fineness, but Marcel will tell you! I got the banana looking at the mountains



I'm going backwards, which is even more difficult in a wheelchair.
PS: thank you for the fries!
Jacques
Yay !

Elodie, Gregor, Marie-Pierre, Anaïs, Marie-Agnès
It's rolling.
2 delicate presences
1 small jar of jam here
4 large "elephant" pots over there
1 suction cup handle
1 detour rescue "urgentist" while delicacy and skill
food rescue detours
Anchored in the village of Curienne
You know how to share
The beauty and history of your "Bauju" environment …
…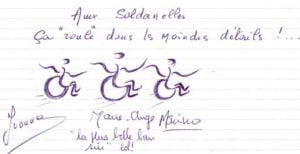 Marie-Ange, Marino, Yvonne
Unfortunately Nadège's testimony above (page2) is no longer relevant: to move with your own wheelchair in the Chambéry agglomeration, you now have to pay a higher price. If you do not have a suitable vehicle for your wheelchair, and are not permanently domiciled on the territory of the Chambéry agglomeration, it is necessary to make a request for a quote to:
SYNERGIHP RHÔNE-ALPES
130 rue de la Poudrette
69100 Villeurbanne
(+33)4 37 72 30 30
info@gihp-sa.com