No shop in our village: to get supplies from CURIENNE, it's better to plan your shopping in advance! You will find some informations below.
Local products
Many producers sell their products directly to the consumer, either in the markets or directly on their premises.
chatelain farm in Puygros: cow cheeses, "Margeriaz", Tome de Savoie and various dairy products, on site (schedules following the link above) and also at the supermarket of area 1 below.
the farm of La Thuile: goat cheeses, tomes, tomettes and "bleus" on site and in the markets.
Philippe and Agnès Guyot market gardeners in Curienne, sell their 100% organic vegetables in the markets :

Challes les Eaux (Friday morning)
Chambery (Saturday morning)

The val d'Aillon cheese factory,in Aillon le Jeune, on the road to the resorts of Aillons Margeriez or Aillon Station: many cheeses and dairy products, but also fresh artisanal bread, cold cuts …
La Ravoire Paysanne: store of local producers: meats, cheeses, beers, wines, fruits and vegetables. In area 1

of the map below, with 100% organic primers
The Christophe butchery: neighborhood butchery, friendly welcome and excellent products, convenience store (open on Sunday morning). On the road to Saint Alban, 6.5km from the cottage.
Other resources
When you come to the lodge, you will most certainly cross important commercial areas. We have located on the map below the closest and most interesting areas, according to us: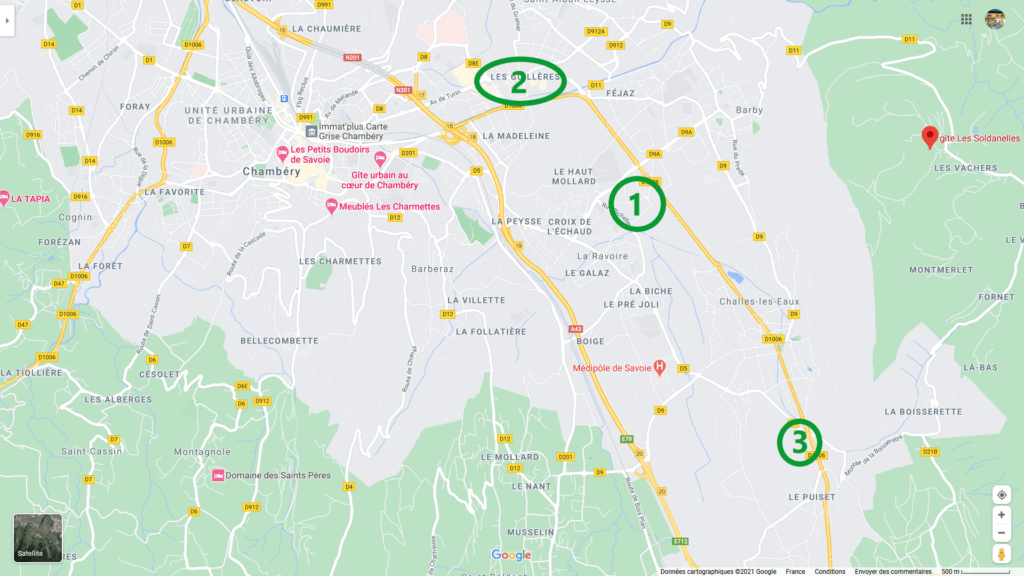 area 1: the closest and most accessible; less than 8 km (13 minutes) and a single red light on the way, you will find in this area a supermarket of large size, but still "human", with many services on site or very close
area 2: large area distributed on both sides of the old national road from Chambéry. At 9 km and in about 16 minutes, you will find the hypermarket of the eastern Chambery and many other brands in various fields: sports shops, food, DIY, car accessories, etc. Traffic on the main road is often very congested, with many traffic lights.
area 3: small commercial area, on the road to the South (8.3 km and 13 minutes), has the main interest of being able to do food shopping on Sunday morning.
Markets
The closest and best provided in the area:
Tuesday (morning): Chambéry, place de Genève, in front of les covered halls
Wednesday:

Saint Alban Leysse, rue des Ecoles (all day long)
La Ravoire, Place de la Mairie (morning)

Thursday 4:30 pm- 7 pm: organic market of Chambéry, place du palais de Justice
Friday (morning): Challes les Eaux, opposite tourist office
Saturday (morning): Chambéry, place de Genève, in front of the covered halls
Restaurants
The choice is huge, everywhere: it's up to you to look and make up your own mind. However, we note two addresses that are useful to us:
the Auberge du Mont Saint-Michel in Curienne: 200m from the cottage, Christophe and Maud will serve you their traditional cooking, on site or in takeaways on order;
the lake inn in La Thuile: a very pleasant setting, very close to the lake, enough to spend an excellent day
We hope this article will have helped you to waste less time, to get supplies from Curienne.